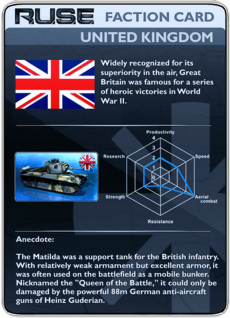 The United Kingdom (in full: The United Kingdoms of Great Britain and Northern Ireland) is one of the playable factions in R.U.S.E. Made up of the individual nations of England, Scotland, North Ireland, and Wales, these four nations contribute to Her Majesty's Armed Forces, which are further broken down into the British Army, the Royal Air Force, and the Royal Navy. Additionally, former members of the British Empire such as Canada, Australia, New Zealand, and South Africa have contributed both materiel and manpower to the Armed Forces of Britain. Despite the overarching formal title, the British Army is specifically considered the military of parliament, and not the crown, as a result of the English Civil War and affirmed in the 1689 English Bill of Rights. However, though the Prime Minister of England is the de facto leader of the British Army, the Queen of England still possesses the power to seize control of all aspects of Her Majesty's Armed Forces as its Commander-in-Chief.
Historically, Britain was left to fend for itself in 1940, but it waged war superbly. The picture of a cool-headed Tommy Atkins has yet to die. Britain also had a worldwide empire to call on after France was knocked out in 1940. Despite losing early battles, Britain held on and used it's powerful navy and army to slowly gain the upper hand on the Axis. After the entry of America into the war, Allied victory, while slow, was inevitable.
Description
Edit
The United Kingdom will have better air fighters and bombers units than the other factions, but this balanced out by weaker armour, their tanks a second weakest to Italy. They also start with Recon bunkers which are great to protect flanks from easy infantry grabs of your supply depots.
Units and Buildings
Edit
Headquarters
Edit
Artillery & AA Base
Edit
Armour Base
Edit
Anti-Tank Base
Edit
Prototype Base
Edit
British aircraft are very good and very cheap. Excellent combination.
The observation post has a VERY long line of sight.
British have paratroopers as soon as they have an airfield. NO research required. Drop some lads in early for tea......